At Tryon Creek Watershed Council, we work towards habitat restoration and community engagement. Read the latest happenings here!
Restoration
From large projects with multiple landowners and environmental contractors doing on-the-ground work, to Saturday morning work parties, removing invasive species and planting native trees and shrubs helps to build a stronger ecosystem.
We also work with community members -like you!- at weekend work parties.
Fish Passage
We also work to advocate for and move forward the removal of fish passage barriers – read more here!
Community
Volunteer Events
Often on Saturday mornings, volunteer work parties are a great way for folks to get outside, students to earn service hours, businesses to represent themselves while team building, and often a fun way to spot a salamander! We regularly participate in No Ivy Day, Earth Day, and other regional annual events – our signature annual event is our Watershed Wide Event (below)!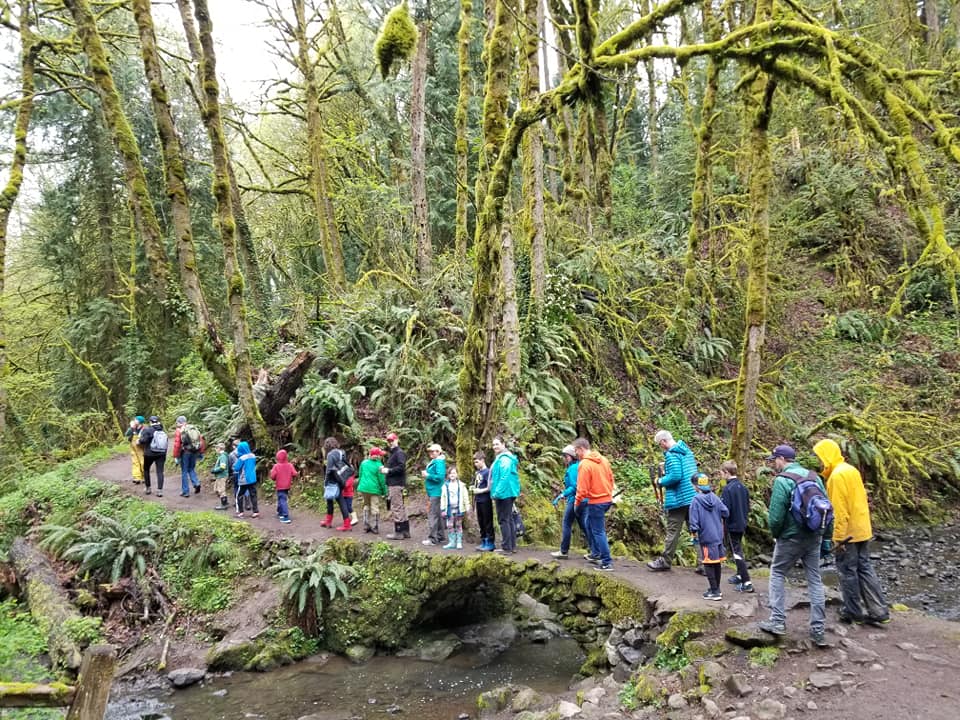 Watershed Wide Event
TCWC's Watershed Wide Event is the largest annual day of volunteering in the watershed! Community members start off the day getting fueled by coffee and breakfast snacks, celebrating, and then dispersing to various sites across the watershed to plant native plants and remove invasive plants!
Read about the annual Watershed Wide Event here, and mark your calendars for our 11th Annual Watershed Wide Event: Saturday, March 14th, 2020!
Watershed 101 Workshop
Tryon Creek Watershed Council provides this workshop, both indoors and hands-on, for watershed residents, who invite their neighbors, friends, and colleagues to attend. City of Portland's Bureau of Environmental Services funds this program.
The workshop format is flexible. While we usually host at homes where hosts invite their neighbors and friends, we've also given this workshop to schools and businesses. Reach out if you'd like more information!
The workshop starts with about a one hour presentation inside (includes topics like managing stormwater on your property, native & invasive plants, and what individuals can do to steward their watershed). Then participants head out into the host's yard to learn proper invasive removal and native planting techniques, working outside for about 2 hours.
The site hosts are responsible for recruiting neighbors/colleagues to participate and providing beverages (coffee/tea). Some hosts also choose to provide a small snack like cookies or crackers and cheese -or even pizza!- but this isn't expected or required.
We provide handout materials, gloves and tools, and native plants for your yard, and can bring our own computer and projector for the presentation portion of the workshop.
Science Talks
Pulling ivy isn't for everyone – we host Science Talks twice annually at the Lucky Lab in Multnomah Village. We're glad to be able to spread education through the watershed and the greater Portland area!